---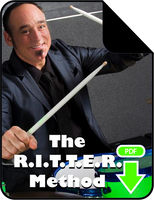 This e-book is a self-improvement method designed for drummers of all ages and skill levels!
Rhythm, Inspiration, Technique, Training, Energy and Recording are the main topics, all covered in depth by Chip Ritter while on the path to becoming the best drummer he could be.
"Reads like Zen and the Art of Drumming!" - Ashida Kim, Author of Secrets Of The Ninja DOJO Publishing
---
© 2002 chipritter.com All rights reserved.